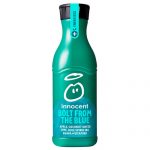 Innocent Plus Bolt From The Blue 750ml
Look at that. Just look at it. That's a blue drink in a bottle. It's blue. It's good for you. It's juicy. It's blue. It's delicious. It's beautiful. It's blue. It's made from apple, guava, coconut water and a dash of spirulina with extra vitamins to give you the bolt of energy that's right there on the front of the bottle. We haven't figured out what its main selling point is going to be yet but did you notice that it's blue? We did that on purpose. And we'll keep going on about it til we're blue in the face because that's wholly appropriate, given the circumstances.
Additional information
Ingredients
Reviews (0)
Delivery & Shipping
Additional information
| | |
| --- | --- |
| Weight | 5 kg |
| Dimensions | 23 × 15 × 24 cm |
| Case Size | 6 x 750ml |
| Product Code | INNPBO7 |
Description
4½ pressed apples (66%), coconut water (18%), some crushed white guava (5%), a dash of spirulina extract (0.8%), a squeeze of lime (0.9%), 15 pressed grapes, a dash of pressed passionfruit, some vitamins [B1, B2, B3, B6 & E]
Free delivery on orders of £50 or more. Subject to our delivery vehicles covering the delivery area.
Charges of £10 + VAT on orders below the minimum order of £50.
Delivery areas not covered by our vehicles will need to be sent via courier. Please contact us for more information/quote.